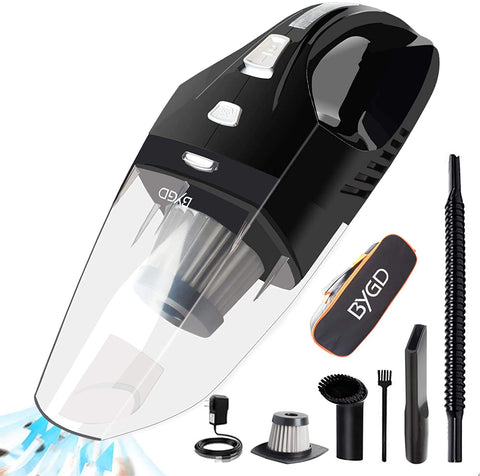 【CORDLESS DESIGN】The portable wireless vacuum cleaner can let you clean any place freely without the restriction of electric wires, and the gap between the high places in the room or in the car seat cushion can also become cleaner!

【ALL-AROUND CLEANIN】Three types of suction nozzle, with strong wind and variable suction head, can absorb all the bread crumbs, hair and water stains scattered in the gap, making it easier to clean the cracks!

【IMPROVED HEPA FILTER】The new upgraded stainless steel filter screen is more durable than the paper filter screen. The attached brush can be well cleaned. The assembly is simple and fast, and the cleaning is convenient. The elderly and children can easily use it. It is the only choice to buy gifts!

【Quick Charge Tech】The 2000 Ma high-performance lithium-ion battery can last for 30 minutes, and can be used for the next efficient cleaning work as long as 3 hours of charging!

【Service】You can contact us for after-sales service at any time. We also provide technical support and replacement services. we will always stand behind our products and do our best to support you.

Upgraded Filter

The hand wet vacuum with high density filtration filter and 360-degree cyclone technology, makes the air and dust separate quickly without clogging the filter, deep purification and release of fresh air. Stainless steel filter is detachable and washable, Durable and reusable.Tip: Cleaning the filter after each use to make sure it works fine next time.

Three kinds of accessories (home & car)

Come with 3 attachments for a different purpose. The flat nozzle is used for narrow gaps, corners, and liquids. The brush nozzle is for fur clean on the sofa, carpet, or bed. The soft long tube for dust particles flexibly, you could use it to clean the place that hard to reach. No matter in home, office, or car, you will always find it easy to clean up with our vacuum.

Portable package

Convenient storage, as long as you carry the bag, you can go anywhere to start using the vacuum cleaner. When you don't use the vacuum cleaner, just put it into the bag and put it in the trunk or the corner of the room. It doesn't occupy the space and is not afraid to dust.

Let BYGD vacuum cleaner take you to open a new era of wireless cleaning, enjoy the fun of taking and smoking.