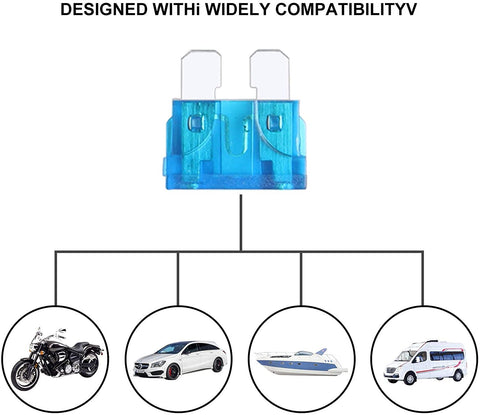 ALL SIZES YOU NEED: Cover 22 kinds of commonly used blade fuse: 120 pieces Standard: 2A/3A/5A/7.5A/10A/15A/20A/25A/30A/35A/40A, 120 pieces of mini type: 2A/3A/5A/7.5A/10A/15A/20A/25A/30A/35A/40A

EASILY ORGANIZED: Packed in a durable plastic case to protect the fuses and provide easy transport and organization; The fuses are (industry) color coded and the case includes a chart for quick identification and simple installation

GREAT COMPATIBILITY: These assorted fuses are specifically designed for Cars, Trucks, SUVs, ATVs, UTVs, Camper RV, Motorcycles, Fleet, Golf Car, Boat, snowmobiles, and most general DC applications etc., covering such components as radio, light, turn signals, etc. This set comes with Standard & Mini & Low Profile Mini blade fuses, all essential for every American household that owns more than one car.

EXCELLENT QUALITY: BYGD blade fuses made of a high quality zinc alloy, with a transparent cover to protect your vehicles from short circuit and overload.

FUSE PULLER: The fuses puller is included in the fuses box, help you easily replace the fuse, fuse puller is in the gird of 35 amp low profile mini fuse.