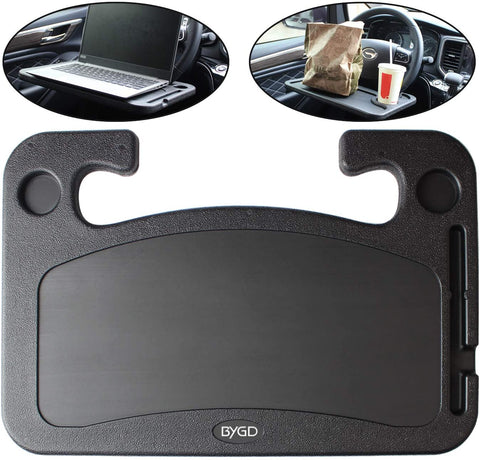 【Double-sided multi-purpose】: Perfect double-sided design, one side is equipped with a concave surface for placing food and beverages to prevent food from slipping; the other side is equipped with a flat surface and a groove for pens, which can be used for office writing and reading books.

【Comfortable use】: Fully suspended structure, no support at the bottom of the desktop, and more freedom of movement of the legs. This is an ideal solution for car offices and car catering, and it is also a gift not to be missed.

【A wide range of objects】: This steering wheel table is a good helper for family car drivers, commercial car drivers, and long-distance car drivers. It is suitable for most vehicle steering wheels. If you have any questions, please contact us.

Easy installation】: Quick installation, just hook the tray to your steering wheel, adjust it to a comfortable height, and start using it. When not in use, it can be removed immediately and put into the back of the car seat for convenient storage.

【Environmental protection material】: BYGD car pallets are made of high-quality ABS material, environmentally friendly, odorless, strong and light, with an ergonomic handle that can be tightened with only two fingers, and can be easily operated by the elderly and children.