Do such problems still haunt your life?
Messy paw marks on the car.

Scratched leather seat.

The dog's motion sickness caused vomiting in the car.

There are pet hair everywhere in the car.
With our safety pet dog booster seat, you don't have to worry about these problems, so you can fall in love with the car and pet at the same time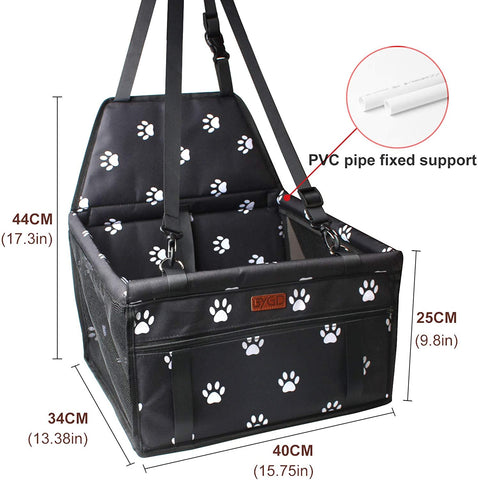 Cleaning Method
It is recommended to use water or neutral detergent to wash by hand at room temperature.

Avoid prolonged soaking.

Avoid using detergents containing bleaching ingredients.

Avoid twisting hard and avoid exposure to the sun.
Please Be Attention: Since the product is a new product, there may be some peculiar smell when the package is just opened, please don't worry, you only need to open the product in the vent to dissipate the smell for a while before you can use it.

【Convenience】The new anti-dirty and breathable car mat for pets is double-thickened and can be used in the front and back seats. It is very convenient. It has a zipper pocket design that can hold some small things.

【Careful design】Upgraded support rods, upgraded accessories webbing, 3 PE plates at the front and rear bottom, Support rods on both sides will not collapse.

【Product Size】The size of this pet car basket is 15.75 x 11.81 x 9.84 inches. Small and medium pets can be used. The straps on both sides fasten the seat and basket tightly, can make the pet's journey safer.

【Strong and Durable】Made of Oxford cloth, washable, high-quality hardware accessories and strong anti-aging webbing.

【About our service】As a responsible seller, we will provide our customers with a full range of quality assurance, whenever you encounter any problem, you can contact us, we will provide you with a satisfactory solution. If you have any questions, just contact us and we will give you a reply within 24 hours.